6 Reasons To Take On A Staffing Position With A Staffing Agency This Summer
>>> DOWNLOAD THE PDF TRANSCRIPT
Have you been really struggling to build your career?
Are you hoping to gain experience and skills on the job?
Or perhaps, you are hoping to see what areas and fields interest you before applying for permanent positions?
Whatever your reasoning is, finding a temporary job through a staffing agency is a great way to move forward in your career while learning and growing a lot.
If this sounds like you, you can look up "staffing agencies near me" to get a good idea of where to start.
Infinity Staffing wants to help you decide if a staffing job is right for you.
There are a lot of reasons to take on a temporary job this summer! Read on to learn more…
1. The Hiring Process Can Be Much Easier
Has the interview and hiring process been a big source of anxiety for you?
Are you avoiding taking the leap into the career you desire because you are worried about not getting hired?
When you apply for a temporary job through a staffing agency the process of being interviewed and hired becomes a lot more simple, the agency handles a lot of the work for you.
Plus there is not as much pressure because companies are going to be a lot less picky about a temporary staff member than they would someone they are hiring for a permanent position.
This is a good way of getting your foot in the door without all of the stress and pressure of the hiring process.
2. You Don't Have To Commit Long Term
If you are newly graduated or in between jobs you probably want time to figure out what you like before committing to a certain career.
Temporary jobs allow you to try out different fields before choosing your career path. The lack of commitment can give you some freedom to figure things out while making money and gaining experience.
Job-hopping is rather common but can look bad on your resume. However, temporary jobs allow you to check out various fields of interest without negatively impacting your resume or future career.
Staffing jobs offer the perfect way to explore various fields, and staffing agencies are a great resource for finding temporary jobs.
3. You Can Build New Skills And Gain Experience
When you graduate, go back to the job search after raising kids, or you are simply new to a certain field, your lack of experience can be a real block to finding the job you want.
One of the biggest benefits of a temporary job is that it can offer you the experience you need and that employers are looking for.
Along with experience, temporary jobs are also a great place to learn and build new skills that will be a real asset to you throughout your whole career.
The time you spend at temporary jobs that you find through a staffing agency can be a real building block.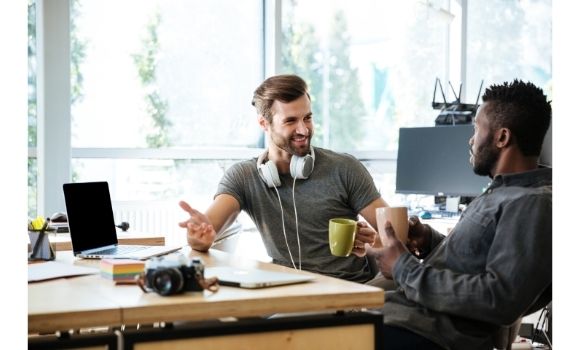 4. You'll Be Able To Network Like Never Before
Have you struggled with networking in the past?
While working in a temporary position you will gain contacts and be given the opportunity to network.
Themuse says that staffing is the ultimate way to network, and it can bring you many new opportunities.
Networking is an essential part of growing as a person, having a stellar career, and building a good life.
staffingstaffingThe connections you make at your temporary position can help you build your career. Don't miss the amazing opportunity to network! Make sure to focus on networking throughout your staffing jobs.
5. The Temporary Position Has The Potential To Become A Permanent Position
If you are interested in a certain field but have had a hard time getting a job in it, starting as a staffing can be your way in!
Once you get in with a position as temporary staff, you can work hard, be diligent and prove yourself as a great asset.
If you do an excellent job as a staffing worker, you will be much more likely to be asked to stay on permanently. Just like that, your staffing job can become a career!
6. Staffing Agencies Can Help You Advance Your Career
Staffing agencies have the resources, knowledge, and connections to help you find the right temporary job.
If you are looking for a great temporary job, you can look into " staffing agencies near me" or check out Infinity Staffing.
Infinity Staffing has years of experience helping people find staffing jobs, staffing-to-hire jobs, part-time jobs, full-time jobs, and short-term jobs.
We offer high-quality and professional services that connect many individuals to great businesses and fulfilling jobs.
Whatever you're looking for, Infinity Staffing can assist you. We want to help you build the career of your dreams!
If you are interested in taking advantage of a staffing job this summer, click here to contact Infinity Staffing.